SamplerBox performance
by Joseph, on 2015 May 15th
Last days, I have updated and optimized the audio engine. Result:
128 voices of polyphony without problem (why so many voices? it's useful when you play piano with sustain pedal for example)
~ 11 milliseconds latency (better than expected, finally similar to most profesionnal audio interfaces!)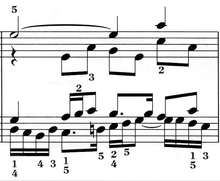 A bar from J.S. Bach's "Fugue No.17 in A flat", BWV 862,
from Das Wohltemperierte Clavier.